Family Escape
In early 2017 I was commissioned to create an artwork for a wonderful family in the process of removing and rebuilding their Bach on Waiheke island. I was commissioned to rebuild and immortalise their family Bach in the form of an artwork to hang up in the new Bach. An important focus for me in creating an artwork for them, was getting idea on what the Bach means to them, Isolation, escape, friends, family, hide away and a place to rest.
Family Structure ii
This artwork encapsulates the relationship between the physical house and its challenging environment vs the psychological relationship between our comforts and insecurities.
Palm Beach, Waiheke Island
A family Bach once holding years of memory being removed and replaced to accommodate for a newer more modern Bach, a spacious place for a growing family.
Sculpture Reference (Back)
To recreate the Bach I need a 360 view, so the back side front etc, this image also shows its natural surroundings.
Water tank
shows the way water is accessed on Waiheke.
Waiheke Island, the tourist destination
A beautiful Island to explore and get a taste of local New Zealand hospitality.
Wine tasting and vast Vineyards to explore, Island tours and various extreme sports to enjoy.
Never far away from beach access, the island provides many places to have that sea side fish and chips the local way.
Waiheke Island the family getaway
Living on Waiheke according to the Mank's family is a place for them to escape the hustle and bustle of city life in auckland, a place to unwind and enjoy the vast horizons surrounding Waiheke Island, they make mention to amazing sunsets and vivid night skies.
Johanna May Manks: " Its a place to spend time with family and enjoy entertainment with our friends, its the perfect place to chill and escape"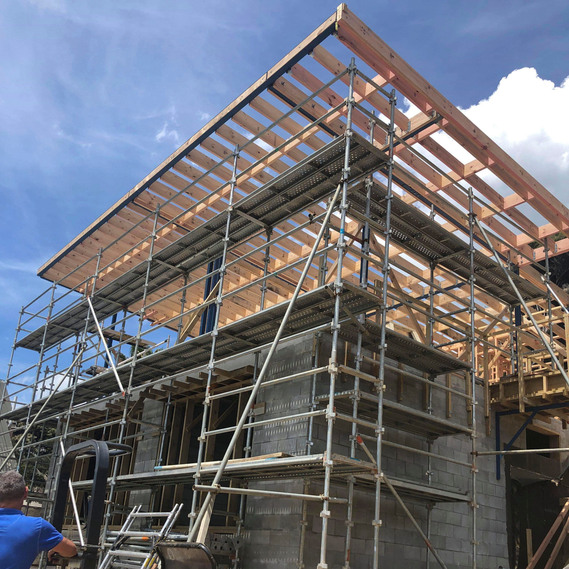 Rebuild
I was sent process pictures while I was creating the artwork and gained inspiration from it.
Structure in my artworks both represent the physical properties of structures and the figurative sense, it being emotional strength and stability in the way we feel, in relation to our environments.
We lift ourselves above the figurative surfaces we submerged in, wether it be working long hours or sitting in hours of traffic to and from work.
Sculpture
The house/Bach is built by hand from scratch.
Its roughly 10cm by 10cm.
The final image is done in one shot and not stitched together with the use of photoshop, this helps me envision the final outcome.
Your House
If you would like a personalized artwork like this done for your family home, Bach or house that holds sentimental value, get in contact with me.
Together we can create an amazing meaningful artwork.